Silent Desire R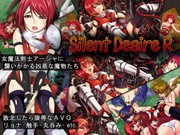 Release Year: 2012
Asha the knightmage is called upon vanquish an infestation of demons.
Cast magic spells and destroy evil in this clothes stripping ADV game.
Battle is RPG turn-based style.
R-18 sex scenes are unlocked when you fail against an enemy.
(Some require special deaths; standard failure does not result in ecchi scene)
Demon assaults come in standard and hardcore. You can choose.
Developer / Publisher: SDNK
Platform: PC / Windows
Publication Type: License
License: Freeware
Language Games: Japanese
System Requirements: HDD: 250 MB
File size: 235.4 MB