Chastity Hurts
File: fem138.mp4
Size: 1361207880 bytes (1.27 GiB), duration: 00:07:03, avg.bitrate: 25744 kb/s
Audio: aac, 48000 Hz, stereo (eng)
Video: h264, yuv420p, 1920x1080, 59.94 fps(r)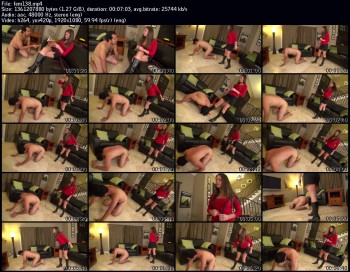 When Princess Ashlee is busy reading a book, the last thing she wants is to be disturbed by a slave that wants to be released from his chastity. Her slave should know better than to beg and grovel for release as it's not his cock anymore, now its property of Princess Ashlee. She will decide if, when and how he will cum. That lesson needs to be imprinted on this slaves mind though, so she will grant him permission to beg and at the same time torture him ruthlessly with her whip. She has no pity for this slave or any male property she owns, and she whips him to near tears as he begs and pleads to have his cock set free. She even taunts him with the key, pretending that he may actually have a chance of being released. In reality she has zero intention of setting his cock free, she simply wants to make him suffer for daring to think that he still has control over his own cock. The pain eventually gets the better of him and finally he begs to be kept locked up, anything to get the pain from her cruel whip to stop. Much better, now he needs to leave so that she can finish her book.
download RG:
https://rapidgator.net/file/f1b67d4dfdefc63e33304f1eec47f0f1/fem138.part1.rar
https://rapidgator.net/file/a207c06e0ed21d953fb0bf9ffc26b96d/fem138.part2.rar
download K2S:
Download file - 700.0 MB
Download file - 603.5 MB
Slave Hunting Part 2
File: fem139.wmv
Size: 198873614 bytes (189.66 MiB), duration: 00:06:18, avg.bitrate: 4209 kb/s
Audio: wmav2, 48000 Hz, stereo, 128 kb/s
Video: wmv2, yuv420p, 960x540, 29.92 fps(r)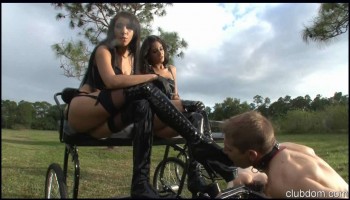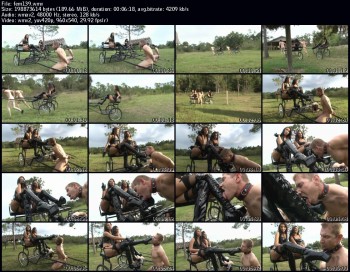 So these loser thought they could go to a pool hall and picks some girls up. To bad for the losers they didn't pick up some little girls they made the mistake and went home with two cruel Mistress's. The Mistress's next task for the losers will be to chauffeur them around the Mistress's compound. The Mistress are demanding and force there chauffeur slaves to go faster and faster. The Mistress begin to race each other which means the slaves will be forced to use all there strength and endurance to go as fast as they can. The Winner gets a delightful treat of four leather boots to lick clean.
download RG:
https://rapidgator.net/file/0bc4b428e0ef9a12f409d495098a94f2/fem139.rar
download K2S:
Download file - 190.8 MB